---
---
If you are looking for the Buddy Dog Humane Society, please go to: http://www.buddydoghs.com
---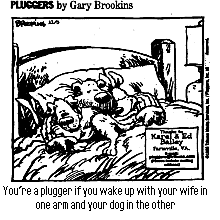 I think I just might be a plugger....
reprinted here by kind permission of Gary Brookins at pluggers.com
---
My Home Group



My wife
Gabrielle




My dog
Homer. 1986-2002
May he rest in peace.




Proud Daddy with his girls.




Rhiannon Elizabeth
born 7/12/99




Adrienne Christine
born Sept. 8, 2000
---
My Web sites
Info Roto League OH! : Rotisserie league
C++Builder : development environment support page
Our home in Medford
The Wargamer : a web site about simulation gaming
SimBase : an online wargame database
Rhiannon : the elder daughter
Adrienne : the younger daughter
My Blogs
A Trifle One-Sided : My Vox blog, where I'm writing out movies, music and books
Daemon Dancing in the Dark : A FreeBSD blog, where I talk about working with FreeBSD
Toys in the Attic : My Bloglines blog and blogroll
The Game Chair : A video game review site

These are blogs that I don't really keep up any more:
The Incredible Brightness of Seeing : A home theater / movie blog
Wanderings of a Lost [game] Mind : My Gamespot journal, where I record my computer game time
Jiggle the Handle : a diary blog, where I recount the fascinating details of my life and thoughts (on hold)
Lifetime Reading Plan : my reading habits, especially in regards to The Lifetime Reading Plan, a great book listing great books

---
Downloads
DG (Display Gif) - a real simple freeware GIF viewer.

Sportscenter ALCS Top 10 (2.1mb) : The ESPN Sportscenter ALCS Top 10, from October 21, 2004.

Here's some pictures you can use on your desktop. Click on the link to the picture you'd like to use. It will show up in a browser window. Then right-click on it and select the "Set as Wallpaper" menu item:
1024x768 highest quality image (104Kb)
1024x768 good quality image (66Kb)
800x600 good quality image (43Kb)


Here's the girl's Christmas 2002 picture. Click on it for a full 800x600 version:


---
Favorite Links

Stroud's CWSApps List - Where to look for Win32 Internet apps
Boston.com - From the Boston Globe, the place to look for Boston information
vmyths.com - where computer virus hysteria gets explained
snopes.com - Urban Legends Reference Pages; check it before forwarding any email!
---
Look up a word in the Mirriam-Webster dictionary or thesaurus!
---
---

These web pages are produced with help from:
---
Jonathan Arnold <

[email protected]

>
Last modified: Sun Jan 28 11:08:03 EST 2007